+
Join Us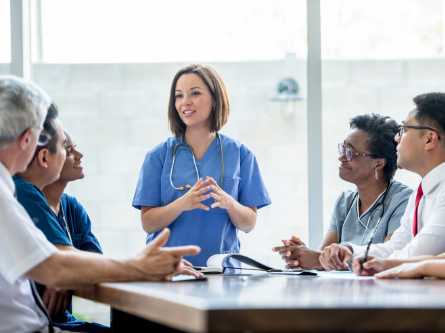 Find out if Vizient membership is right for your organization.
Contact us about Vizient membership
Is Vizient right for my organization?
As the largest member-owned healthcare company in the United States, Vizient understands what members need to deliver exceptional, cost-effective care. We work with a wide range of health care organizations to -ensure that our innovative practices, knowledge base and expertise reach across communities and the care continuum.
Join our diverse group of members
Vizient's diverse membership includes academic medical centers, pediatric facilities, community hospitals, integrated health delivery networks and non-acute health care providers. These members are interested in learning from our trusted experts, accelerating performance and improving care. Membership gives these organizations access to the many ways we optimize each interaction along the continuum of care.
Members can join our learning networks and benefit from our strategic research and advocacy on important public policy issues impacting health care. In addition, members can choose from our core offerings in clinical, operational and supply chain that connect them to powerful data and analytics, advisory services and network collaboration. An organization's cost of membership is based upon the number of selected offerings.
Visit your Member Dashboard
Vizient has created a Member Dashboard to provide you easier access to your frequently used tools, reports, networks and groups. Log in to see your dashboard.
Vizient by the numbers
With more than 550 consultants dedicated to improving members' performance, Vizient is ranked as the 3rd largest health care management consulting firms by Modern Healthcare.
Benefits of membership
1. Harness powerful insights
Comparative data, analytics and network-powered insights are at members' fingertips, driving better business and better care.
2. Accelerate performance
Vizient brings members together to learn from the collective knowledge and insights of peers, helping them improve faster than they could on their own.
3. Achieve scale and efficiency
Our long-standing supplier and distributor relationships help members dramatically reduce the cost of care while amplifying results.
4. Make innovative connections
Connect and build with Vizient and like-minded members through an impressive network of health care executives and organizations in the United States.
5. Be more agile
Vizient's expertise across the continuum of care offers unmatched solutions to create a more agile organization powered by robust data and tools. Experienced and trusted advisors are trained to help build a flexible organization that is responsive to patient and market needs.
6. Build knowledge
Our strategic research helps members anticipate environmental changes and chart strategies to reduce costs and improve quality of care.
7. Gain advocates on important policy issues
Our
advocacy efforts
ensure members' voices are heard on the most pressing policy issues and topics.
In today's health care world, lowering costs isn't enough. You have to link good cost management with better health care to produce better health in our communities – and that's what Vizient is going to allow us to do. Vizient has no ceiling.
Find out if Vizient membership is right for your organization.