A highly committed purchasing program
The Achieve Committed Program offers members maximum value for the highest aggregate commitments in select medical-surgical categories. This highly committed purchasing program offers accelerated savings of 6 to 12 percent on total acquisition cost.
But the value goes beyond contracts and cost savings. Participants tell us that entrusting contract management to Vizient has increased the capacity of their supply chain team – extending their reach, creating space for innovation, and enabling greater clinical-supply integration.
By offering a clear pathway to foundational committed value, Achieve creates bandwidth to meet higher-level objectives.
How does it work?
Achieve is the "always on" value acceleration program that ensures your contracts are always optimized. We work behind the scenes every day to ensure participants realize the full benefits of:
Real-time analytics that give you clear visibility into compliance measurement and monitoring
The Achieve contract portfolio, full of products that have been clinically evaluated by a leading health care institution
Dedicated people and technology that offer active management of market and value updates
Transform your business with a transparent view into savings opportunities, market price monitoring and compliance through real-time analytics — because when you're always on, you're always optimized.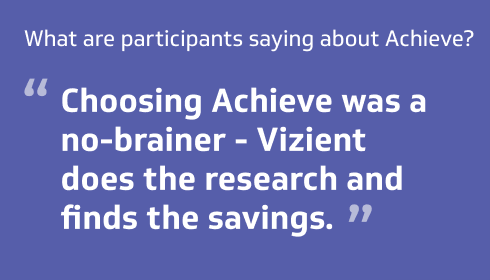 Take our fit assessment to learn whether our highly committed purchasing program is a good choice to support your organization's financial and operational objectives. Or, request a no-obligation analysis to see your projected cost savings opportunity and product cross-reference percentage.