7 ways to integrate and manage your health system's ambulatory supply chain
Healthcare leaders looking to control costs across their healthcare system should look at their ambulatory supply chain spending and try to realize economies of scale. Identify opportunities for your system by assessing the seven critical factors outlined in this e-book from experts at Vizient and UCHealth.
Read the white paper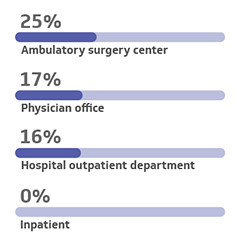 Procedure growth favors ambulatory surgery centers
Over the next decade, procedure volumes in outpatient settings will rise, while inpatient volume remains flat, according to forecasts from Sg2®, a Vizient®company specializing in healthcare intelligence and market analytics.*
Drive change with the right analytics, technology and expertise
Ambulatory or outpatient care is increasingly becoming a strategy for addressing challenges and shaping the future of health care. Business-savvy hospitals and physician groups looking toward the future are implementing solutions that measure, monitor and drive clinical and financial performance in ambulatory care settings. Developing such solutions requires:
Robust, transparent data that can demonstrate the impact of efforts to improve quality, utilization and cost across the continuum of care
Comparative benchmarking to measure and manage clinical activity, monitor coding compliance, maximize charge capture, track visit mix and optimize practice yield
Analytics capabilities to provide an enhanced view of denials, collections, undercharges and revenue opportunities
Collaborative intelligence, including peer networking and sharing of leading practices
Vizient offers industry-leading data and analytics as well as resources, tools, and educational and networking opportunities that can help you identify possible issues and develop solutions to make your ambulatory care facilities the best they can be.
* Procedure sites of the future transitions and growth across HOPDs, ASCs. Sg2. 2019.
Ambulatory care solutions
Gain spend visibility and scale across your organization with our supply chain solutions for non-acute care providers.
Powerful analytics tools, peer collaboration and analytic services to help academic medical centers drive clinical and financial performance.
Sg2 Solutions enable the country's leading health care providers to make better decisions, faster.