Reimagining care delivery to empower your healthcare workforce
It's an unprecedented time for hospitals as they struggle to attract and retain their staff while also maximizing operational efficiencies. Hospitals today face labor shortages, increased competition, escalating costs and staff burnout. To attract and retain an engaged workforce, hospitals have to focus on supporting and developing their staff like never before.
Vizient can support you every step of the way. Our suite of workforce solutions drives recruiting and staff engagement, improves productivity and reduces labor costs, all powered by performance data, survey engagement results and organizational culture development.
Approach workforce cost reductions with a mindset to operate at top-of-license. Find out how using the three strategies shared by Vizient experts in our latest report.
Recruit, retain, reimagine: 2023 strategies for the advanced practice provider workforce
Advanced Practice Providers (APPs) play a pivotal role in enabling healthcare organizations to not only survive but thrive in the current environment.
Learn how to build an engaged and resilient APP workforce in this data brief, featuring findings from Clinical Team Insights.
Ochsner Health virtual nurse program serves both patients and its healthcare workforce
Vizient member Ochsner Health developed a virtual nurse program that provides a 24-hour virtual assistance program for the bedside nurse. Providing care remotely has empowered virtual nurses, leading to more time with patients and better collaboration with all clinicians contributing to the patient's care plan.
Helping you take care of your most important resource – your people
Health systems can use analytics-enabled insights paired with consulting expertise to guide decisions around clinical governance and capacity planning. We identify opportunities to improve recruitment and increase retention, engagement and productivity across every step of your improvement journey by:
Assessing management and governance in terms of culture and operational effectiveness
Leveraging peer benchmarking to assess gaps in performance
Budgeting and planning for target labor costs
Enhancing capacity through workforce planning
Centralizing staffing and float pool solutions
We provide stand-alone and comprehensive consulting services including:
Workforce governance program assessment of management system, culture and operational effectiveness
Gap analysis against comparable peer health systems
Labor cost and budgeting planning
Capacity planning and patient flow solutions
Centralizing staffing and float pool solutions
Learn about Vizient Pharmacy Workforce Solutions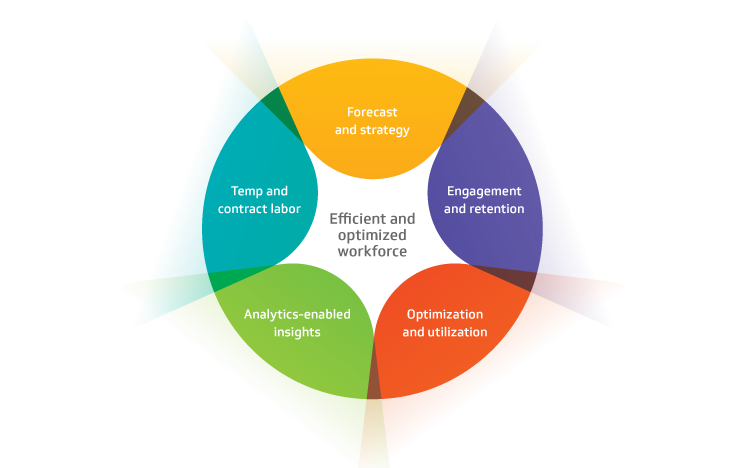 Reimagining Care Delivery Through Workforce Optimization webinar
Discover best practices for reimaging care delivery.
Access the recording
Speak with our team of experts to learn more