In a time where good corporate citizenship is pivotal to the world around us, our Community Impact team continues to take the lead – helping Vizient improve our partnerships with our providers and communities and working alongside our Diversity Networking Associations (DNAs) to deliver expertise and compassion where it's most needed to create long-lasting change.
Giving back to veterans in our communities
Supporting veterans entering the civilian workforce
Hire Heroes USA empowers U.S. military members, veterans and military spouses to succeed in the civilian workforce. Through one-on-one career counseling and individualized resources, Hire Heroes transition specialists help clients achieve career readiness and employment that is financially sustaining and professionally rewarding.
"We've been working alongside Hire Heroes USA for many years, and it's incredibly rewarding supporting veterans as they transition to civilian life – helping them assess how their military skills translate to corporate jobs," said Rand Ballard, chief customer officer and U.S. Army veteran. "It's about finding a good company fit where veterans can leverage their skills, experience and strategic mindset to help organizations achieve their goals."
In 2023 Vizient continued its support of Hire Heroes in their efforts to recruit, train and place veterans into available positions within the health care industry. For veterans living with PTSD or with another disability, support transitioning into a safe, stable work environment can be life-saving. Ensuring that veterans and their families have access to healthy work environments and economic stability impacts the health of the community and Vizient is proud to support this work.
Volunteering to help veterans nationwide
During our 2023 Community Day event, our employees volunteered with the following organizations on various projects designed to support veterans.
Equest – Dallas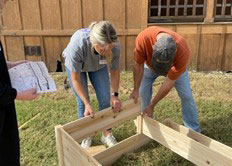 Our employees Partnered with Equest personnel to beautify the campus. Tasks included a variety of projects like stable chores, gardening, securing fencing, clearing trail to prep for ride, preparing for Ridefest and assembling angel tree ornaments. Equest seeks to enhance the quality of life for children and adults with diverse needs through equine therapy and equine-assisted activities and therapies. Equest provides equine facilitated activities, therapies, and counseling to children and adults with physical, cognitive, sensory, coping, social, and learning disabilities and veterans with adjustment challenges. The services provided include physical and occupational therapy, equine facilitated counseling, therapeutic carriage driving, therapeutic horsemanship, and competition.
The Bridge – Dallas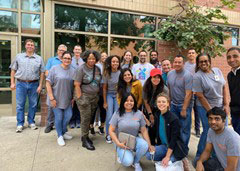 Our employees helped with a variety of housekeeping updates, including painting, gardening, and donation sorting. The Bridge is a Homeless Recovery Center for individuals without a home in Dallas County. Their doors are open twenty-four hours per day, seven days a week, and is the only shelter in Dallas providing day shelter services to all adults experiencing homelessness, The Bridge offers basic needs services including hot showers, nutritious meals, and haircuts, as well as intensive services such as physical and mental health evaluations and care management services for over 800 Guests every day and night shelter for 300 guests each night.
Soldiers' Angels – Dallas and Chicago
Employees created red, white and blue fleece blankets for our First Response Backpacks, which are given to injured U.S. Soldiers. Soldiers' Angels provide aid and comfort to the men and women of the United States Army, Marines, Navy, Air Force, Coast Guard, and their families and to improve the lives of a growing veteran population. Each year, hundreds of thousands of our 'Angel' volunteers assist veterans, wounded and deployed personnel and their families in a variety of ways.
Cards for Humanity – Nationwide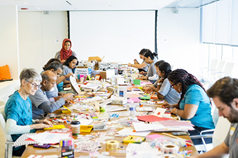 Employees created cards of encouragement to support healthcare workers, frontline workers, active military, veterans, children as well as neighbors in local areas. The team was able to put a smile on someone's face with the simplicity of creating kind and creative cards!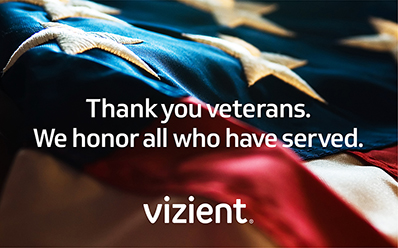 Veterans Diversity Networking Association
Our Veterans Diversity Networking Association Supports volunteerism benefiting veterans and veteran organizations, fosters employee connections and serves as a resource to veteran and military-related matters at Vizient.
Learn more about our commitment to Diversity and Inclusion at Vizient