0.00
increase in elective hip/knee replacements by 2033
Growth amid maturing outpatient shift
The migration of inpatient procedures to the ambulatory setting may be likened to the western expansion of the United States. Since the early 1970s, a steady progression of procedures has exited inpatient settings led by pioneers in the medical space. The specialty most impacted by this move is musculoskeletal procedures. This article focuses on the procedures anticipated to migrate and how hospitals can adjust. Recent reports discuss total hip and total knee arthroplasty procedures moving from inpatient to outpatient settings. According to Sg2®, a Vizient company, this migration is expected to continue. Figure 1 below illustrates the rate at which the shift (to outpatient centers) is predicted for joint replacement surgeries.
Figure 1: Elective Hip/Knee Replacement and Shoulder Replacement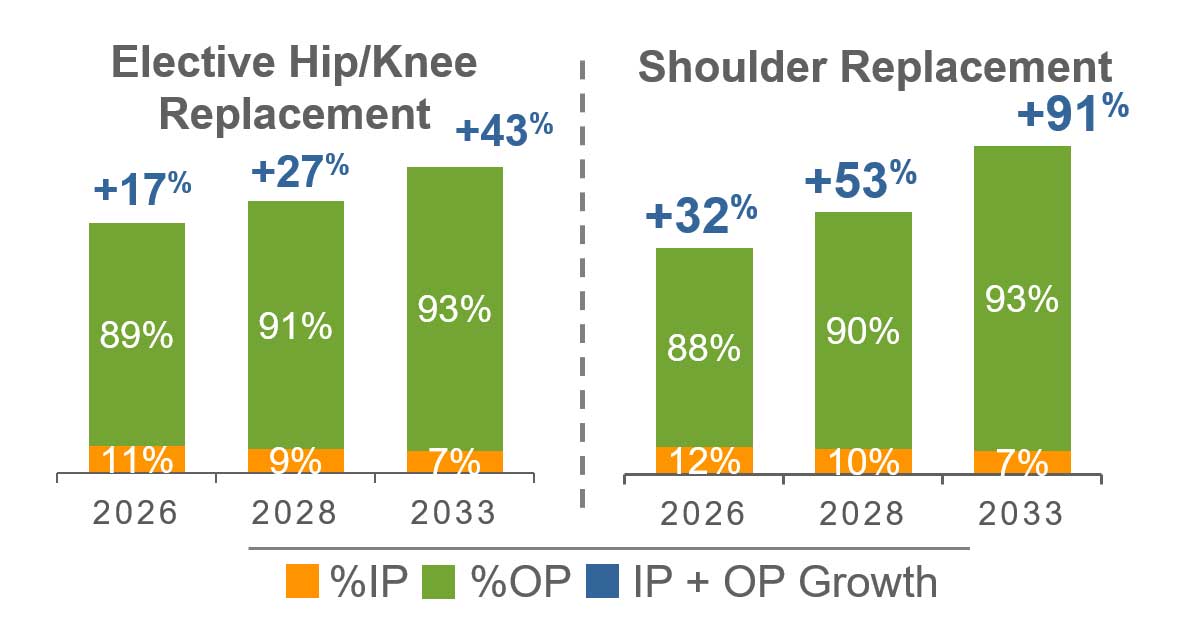 Note: Analysis excludes 0–17 age group. Elective hip/knee replacement includes Osteoarthritis CARE Family, IP/OP primary hip/knee replacement. Shoulder replacement includes Osteoarthritis and Musculoskeletal Injury – Shoulder/Elbow/Upper Arm CARE Families only. Sources: Impact of Change®, 2023; HCUP National Inpatient Sample (NIS). Healthcare Cost and Utilization Project (HCUP) 2019. Agency for Healthcare Research and Quality, Rockville, MD; Proprietary Sg2 All-Payer Claims Data Set, 2021; The following 2019 CMS Limited Data Sets (LDS): Carrier, Denominator, Home Health Agency, Hospice, Outpatient, Skilled Nursing Facility; Claritas Pop-Facts®, 2022; Sg2 Analysis, 2023.
The Medicare Inpatient Only (IPO) procedure list qualifies the site of service by emphasizing patient safety and quality outcomes. The IPO is the industry standard for procedures that are acceptable for outpatients. The IPO list, (along with the agenda and fee schedules), Outpatient Prospective Payment System (OPPS), Hospital Outpatient Departments (HOPD) and the Ambulatory Surgery Center (ASC) system, provide insight into procedures that may be included in Medicare beneficiary growth in ambulatory settings. Though many of the more complex orthopedic surgeries are no longer on the IPO list and are now allowed in an HOPD. However, a few key procedures are not covered by Medicare when performed in an ASC. Therefore, hospitals and their outpatient departments will continue to perform procedures such as shoulder and ankle arthroplasty, as well as spinal procedures — especially lumbar fusions for the foreseeable future.
Shoulder, ankle and spine surgeries
Two shoulder arthroplasty procedures stand out among large joint replacement procedures that still need to be Medicare-approved for ASCs: total joint and hemiarthroplasty. Though removed from the IPO list, these procedures have yet to be added for Medicare coverage in an ASC. Nonetheless, surgeons perform these procedures safely in ASCs when reimbursed by commercial payors.
Shoulder arthroplasty and ankle arthroplasty are also not included in the IPO list. This means, these surgeries are reimbursed in the HOPD setting, but not in the ASC. While ankle replacement is less commonly performed than other joint replacement surgeries, the number of procedures is growing, and more surgeons and device companies are entering the specialized foot and ankle space. Future predictions may include Medicare approving this procedure in the ASC, providing Medicare beneficiaries with the same advantages experienced by other ambulatory arthroplasty procedures. "We are projecting 81% growth in inpatient and outpatient primary ankle replacements over the 10 Year Impact of Change® report. Volumes are growing quickly but are much smaller in number than the other joint replacement sites – hip, knee, shoulder." Donelle Jageman, Consulting Director, Sg2 Intelligence. Furthermore, it is anticipated that improvements in implant devices will shift ankle fusion procedures to ankle replacements.
The next developing procedural territory is in spinal surgery, specifically lumbar fusion. While many spine procedures remain on the Medicare IPO list, commercial payors may elect to allow these procedures in an ASC setting. Figure 2 shows Sg2's predictions for the growth of spine surgeries in the outpatient setting.
Spinal surgeries currently performed on an outpatient basis range from simple decompressions to more complex procedures, such as anterior lumbar interbody fusion. In 2023, one spine procedure was removed from the IPO list, which allows an "additional level" of posterior lumbar fusion using an interbody technique to be performed in the HOPD setting. This procedure was added to the OPPS list of covered procedures; however, its Medicare coverage status has not offered added reimbursement beyond the initial fusion level. Staffing issues could also impact the rate at which this procedure shifts to outpatient.
"We have heard directly from providers that the inability to take their specialty teams to an ASC has kept them from shifting more complex spinal fusions to outpatient settings," said Jageman.
Figure 2: Spine Growth and OP Shift
US Market, 2023–2033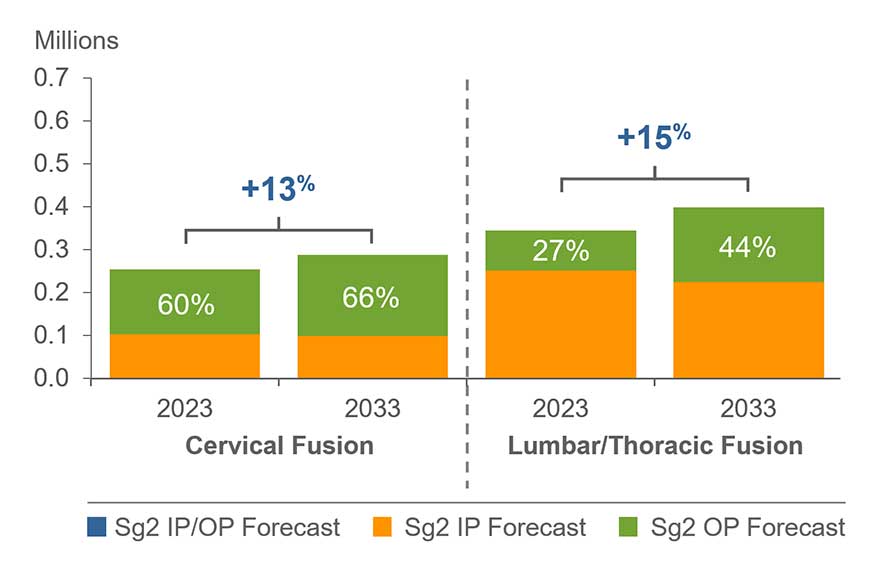 Note: Analysis excludes 0–17 age group and includes the spine service line only. Sources: Impact of Change®, 2023; HCUP National Inpatient Sample (NIS). Healthcare Cost and Utilization Project (HCUP) 2019. Agency for Healthcare Research and Quality, Rockville, MD; Proprietary Sg2 All-Payer Claims Data Set, 2021; The following 2021 CMS Limited Data Sets (LDS): Carrier, Denominator, Home Health Agency, Hospice, Outpatient, Skilled Nursing Facility; Claritas Pop-Facts®, 2023; Sg2 Analysis, 2023.
Steady growth in lumbar fusion procedures has forced Medicare to limit ASC reimbursement to strictly one procedure type: posterior/posterolateral fusion with instrumentation (implanting pedicle screws and rods). Techniques using commonly implanted interbody devices, or a combination procedure (using both instrumentation and interbody devices) still need to be covered in ASCs. Some surgeons may find this limiting if their preferred fusion technique incorporates interbody devices. Additional procedures yet to be reimbursed in an ASC that are reimbursed in an HOPD, include decompression surgeries during which more than two vertebral segments are addressed. However, one-and two-level decompressions are paid in the ASC setting. Given the success of minimally invasive decompressions, the addition of more levels is anticipated in the future. What are inpatient settings to do with this inevitable procedure movement to ambulatory and non-acute settings? Some have considered joining in the ambulatory strategy race by adding hospital-based outpatient departments (achieving under 23-hour, same-day discharges) as well as partnering in joint venture facilities with physicians or ASC management companies.
Hospital mitigation strategies
Hospitals may consider several strategies to mitigate the loss of important cases relied on to support operating margins. Tactics may be employed to maintain current case volumes through financial incentives, market competitiveness and venue preference. Listed below are some potential approaches for hospitals to consider:
Financial incentives
Cost containment consulting often poses the question from the physician perspective is, "What's in it for me?" Surgery centers are unique in their ability to offer safe-harbor ownership and passive income to surgeons. Rarely do hospital arrangements allow this sort of investment opportunity. Financial incentives for physicians are becoming more common to keep physicians and their procedures in the hospital. Various gainsharing opportunities, such as co-management and management service agreements, are being employed to share program success financially with physicians. These partnerships also leverage physicians' expertise in managing hospital programs.
Program-based metrics is a useful tool to improve operating quality and financial margin and can be an effective way to align with physicians. Metrics focused on lowering program costs through decreased length of stay, utilization improvement and supply and implant standardization may prove successful. Additionally, identifying and working with utilization outliers can contribute to improved quality outcomes and the bottom line while emphasizing physician partnership toward facility goals.
Policy or philosophy restrictions may sometimes prevent these arrangements and in that case alternative options, such as program reinvestment, may better align physician desires with facility goals. Program reinvestment is one approach that may prove effective, especially for surgeons who may prefer working in a hospital environment versus ambulatory settings.
Market competitiveness
As payers look for ways to reduce costs, preferred networks are developed with aligned providers. Hospitals, seen as high-cost providers, inadvertently steer patients toward lower-cost ambulatory options as payers seek lower care prices. Hospitals may consider cost reduction efforts in outpatient services to maintain good relationships with their customers. Contracting strategies may be considered whereby outpatient diagnostic and procedure costs are more competitive, with ambulatory providers attracting, or at least not repelling, network referrals. These services, such as lower-cost outpatient imaging, in volume, may help to make up for revenue lost to ambulatory providers. Lower reimbursements in outpatient services may be shifted to more complex inpatient services where the healthcare site of the service ecosystem will normalize over time.
Additionally, implementing targeted ambulatory strategies for procedures traditionally requiring an increased length of stay may attract more payer-driven business. Traditional inpatient procedures are being converted to observation status and even same-day discharge, especially after COVID. Common surgeries described above, like total joint replacement and spine fusions, now achieve patient releases not measured in days but in hours. These lower cost options will be more attractive to insurance payers and patients, covering out-of-pocket expenses.
Many hospitals have succeeded in this strategy by engaging physicians and taking a multidisciplinary approach to develop a safe and efficient program surrounding short-stay procedures. A well-defined program will begin early, provide thorough communication and education, set patient expectations and ensure support throughout care.
Venue preference: operational and OR efficiency
Improving operational efficiency to reduce procedural migration
Surgeons may pass by multiple hospitals on the way to their preferred facility, however, many choose their location based on operational efficiencies and having consistent, trusted operating room teams.
"In my ASC experience, surgeons often complained about inefficiency and frustration when taking surgical patients to the hospital environment," said Ernie Robles, consulting director for Vizient. who formerly served as an ASC administrator with United Surgical Partners for 10 years. "They perceived hospital inefficiencies in gaining access to the surgery schedule, slow room turnovers, and a lack of case preparation as reasons to move to an ambulatory setting. What mattered most to them was finishing the day on time and having a competent and familiar staff to work with."
Hospitals may naturally be less efficient because of their size and complexity. However, these institutions would do well identifying and mitigating inefficiencies which may lead to fewer procedure referrals.
Greater ease and control of surgery scheduling can help improve office efficiency and choice in preferred surgical venue. Streamlining the scheduling process by limiting contact points, defining minimal informational requirements and eliminating redundancy can help ease the logistical burden on busy schedule coordinators. Additionally, the utilization of surgery planning applications can increase case planning efficiency and accuracy by communicating case needs to providers, facility staff and vendor representatives. These applications help to ensure all necessary equipment, implants and unique patient needs are available and addressed before the procedure.
Workflows surrounding patient preoperative planning can help prevent inefficient procedure cancellations. Pre-admission testing departments that focus on the patient in preparation for surgery can reduce the risk of last-minute cancellations and enhance the overall experience and outcomes. Patient participation in preoperative planning and education programs tailored to their procedure further assists in information download and setting expectations before, during and after the procedure. Various apps are available in this space, helping to better communicate with and direct patients' experiences. These tools provide valuable information including preoperative health history, postoperative recording of patient-related outcomes and satisfaction following surgery.
OR teams and strategies that support efficiency
Often surgical teams experience dynamic and stressful situations. The surgeon leadership as "the captain of the ship" is vital in this space for smooth sailing. Developing a knowledgeable, reliable and efficient operating room team provides greater surgeon confidence in partnering with facilities, especially where there is familiarity and consistency with their members.
Ernie Robles additionally noted surgeon perception of staff "hustle" sometimes being different between inpatient and ambulatory environments. Room turnover times can suffer in the inpatient environment leading to surgeon frustration and complaints. Medical teams in inpatient settings can be seen as slow and lacking motivation to complete procedures quickly. Case delays and shift changes are key areas to hone. In contrast, surgery centers are less prone to delays and typically run only one staffing shift. The efficiency of these centers naturally incentivizes staff to work together as a team to stay on schedule. Inpatient settings may consider incentives for staff to complete the daily schedule early or on time.
Additional case capture opportunities enable surgeons access to multiple operating rooms and teams to "flip-flop" between. As physicians migrate out, the ability to leverage available OR space by other surgeons adds to the efficiency of the system. Furthermore, other surgeons may be more likely to add additional shorter-duration procedures to squeeze between more complex cases during extended room turnover.
Disruptions to the flow of cases may not be entirely preventable. However, acknowledging, documenting and working to mitigate the causes should be a priority for surgical suites looking to maintain and attract surgeon loyalty. Disruptions result from of many issues, from in for a busy day to failure to notify patients of the correct arrival time. A quality improvement team focused on this effort will go a long way to minimize disruptions and improve surgeon satisfaction.
To highlight opportunities for operating venue attractiveness, consider the following questions:
What is preventing cases from starting on time and the day from finishing on time?
How consistent are the team assignments working with our physicians?
How effective is the team in accommodating operating room and equipment needs?
Conclusion
Case migration to ambulatory settings will continue in the future. However, hospitals should do everything possible to identify opportunities to retain volume strategically. The musculoskeletal service line is a critical driver for hospital margins. A multifaceted approach should be considered to assess the market and create alignment with providers.
Access the Vizient® Medical Device Tech Watch for more data-driven insights and trends affecting healthcare.
FAQs
Your questions answered