Key points
A projected rise in patients with arrythmias comes with the need to improve access and implement novel care delivery models.
Understanding the technology associated with ablation procedures and the importance of the equipment utilized.
Building a comprehensive and optimized electrophysiology program requires an investment in dedicated facilities and staff.
0.00
Predicted 10-year dysrhythmia growth in U.S. outpatient volumes
How will the increasing prevalence of dysrhythmia and new technologies impact your electrophysiology program?
Key components and success factors
Dysrhythmia, also known as arrhythmia, refers to heart rhythm disorders that can be caused by factors such as age, obesity, blood pressure, prior heart attacks/failure and chronic lung disease that cause structural damage that alters the conduction pathways. Heart arrhythmias may be managed with medications, catheter procedures, implanted devices or surgery.
Sg2, a Vizient company, is predicting a 10-year total growth rate in the U.S. dysrhythmia market of 2% for inpatient, but a substantial 32% increase for outpatient volumes1 (Figure 1). The vast majority of outpatient device implants and ablation procedures will continue to be performed on the hospital campus near term for access to high-acuity resources.
Figure 1. Dysrhythmia forecast
US Market, 2022–2032

Note: Analysis excludes 0–17 age group. AF = atrial fibrillation; AP = advanced practitioner; CHF = congestive heart failure; E&M = evaluation and management;
EP = electrophysiology; ICD = implantable cardioverter defibrillator; TAVR = transcatheter aortic valve replacement. Sources: Forrest JK et al. J Am Coll Cardiol. 2022;79:882–896; Impact of Change®, 2022; HCUP National Inpatient Sample (NIS). Healthcare Cost and Utilization Project (HCUP) 2019. Agency for Healthcare Research and Quality, Rockville, MD; Proprietary Sg2 All-Payer Claims Data Set, 2019; The following 2019 CMS Limited Data Sets (LDS): Carrier, Denominator, Home Health Agency, Hospice, Outpatient, Skilled Nursing Facility; Claritas Pop-Facts®, 2022; Sg2 Analysis, 2022.
Atrial fibrillation (AFib) is the most common arrhythmia and is estimated to impact over 12 million people in the U.S. by 2030.2 AFib death rate as the primary or a contributing cause of death has also been on the rise for over two decades.2
Patients with cardiovascular comorbidities are at risk for developing AFib, a trend that will continue to challenge organizations that have not optimized care. The link between AFib and congestive heart failure (CHF) cannot be overlooked, as almost 40% of patients with AFib go on to develop CHF and vice versa.1 Additional complications may occur in these individuals including stroke, dementia, and increased falls.3
Going forward, health systems will need to think differently in order to effectively manage this complex population as prevalence grows, clinician shortages loom and enhanced diagnosis via wearable devices uncovers more disease.
Advancements in arrhythmia patient care through innovation and technology
Recent innovations have allowed for improved diagnosis, treatment and management of many types of arrhythmias. Additionally, evolutionary changes continue to occur with traditional electrophysiology devices and procedures, and several novel and impactful technologies are poised to disrupt current electrophysiology (EP) practice, such as pulsed field ablation. The public's awareness of heart rhythm disorders is also growing due to the availability of wearable device technology that can indicate clinically relevant asymptomatic arrhythmias.
"With all of the different and emerging technologies available in remote home monitoring diagnostics, being able to share physiological data across cardiovascular service lines allows organizations - through multidisciplinary teams - to deliver a higher standard of care for patients with multiple comorbidities," said Jesse Pestilos, consulting director for Vizient, who spent 10 years in electrophysiology operations management within the cardiovascular service line.
Newer direct oral anticoagulants (DOACs), wearable technologies, left atrial appendage closure devices and enhanced ablation modalities and techniques- all of which require physician and administrator collaboration for effective and appropriate implementation- present both challenges and opportunities.
The combined impact of these factors fuels the need for redesigned care models to adequately meet demand - with enhanced care coordination across multiple provider types, including cardiologists, primary care providers, heart failure specialists and electrophysiologists.
Preparing your organization for growing disease prevalence and awareness
To meet the escalating demand for services, many organizations are redesigning care by leveraging advanced practice provider (APP) care team models. Having APPs operate at the top of their license frees electrophysiologists to see new patients and spend more time in the procedural lab. APPs can also help coordinate care for patients who may not require a clinic visit and who instead can consult over the phone with a nurse to answer clinical questions, help them understand their specific care pathway and titrate medications as directed.
With a broad range of treatments available, providing high-value, coordinated care from diagnosis to long-term management will be necessary to remain competitive (Figure 2). Implementing a robust care team approach creates efficiencies for high-demand resources, such as additional EP lab time and increased clinic access. Adding virtual consults and remote monitoring helps ensure timely access, enhanced care coordination and improved patient satisfaction.
Figure 2. Electrophysiology system of care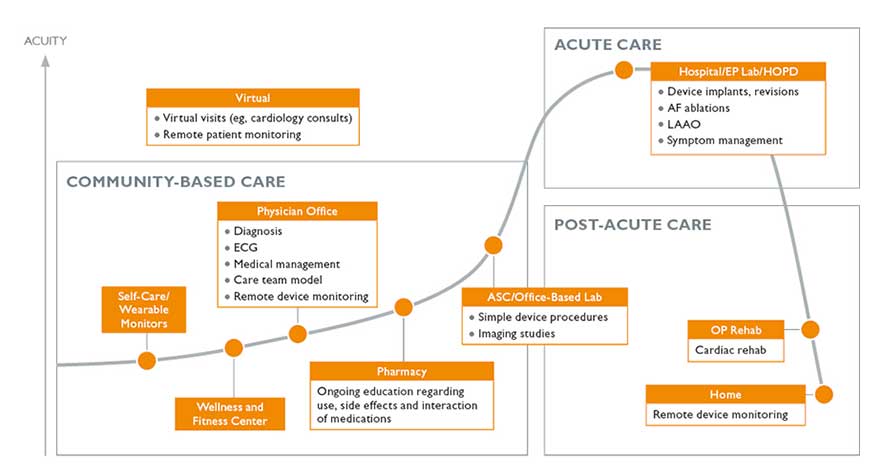 AF = atrial fibrillation; ASC = ambulatory surgery center; CARE = Clinical Alignment and Resource Effectiveness; EP = electrophysiology; HOPD = hospital outpatient department; LAAO = left atrial appendage occlusion.
An EP program requires facility investments that span the entire continuum. Disease-based community EP clinics coordinate ongoing management of patients and provide a wide range of services, from access as an entry point for new patients to advanced workups for diagnosing complex patients.
Many arrhythmias are chronic diseases with no curative treatments resulting in a need for an ongoing disease management and interventions that improve quality of life while reducing risk factors. Recent data have suggested the importance of providing cardiovascular care and monitoring in the post-acute care setting, such as skilled nursing facilities or in-home. Patients in these settings often have undiagnosed AFib that can increase their risk of stroke and complications related to CHF. Adoption of virtual platforms and remote monitoring technologies are also essential to these efforts.
Table 1. Electrophysiology program offerings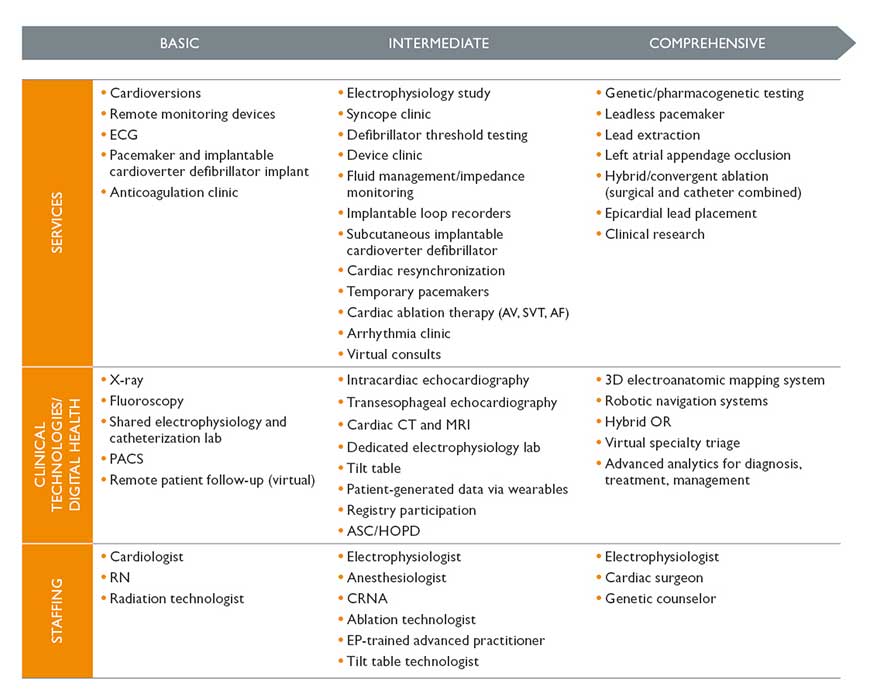 Note: Columns are additive. Comprehensive program will include all service offerings. AF = atrial fibrillation; ASC = ambulatory surgery center; AV = arteriovenous;
CRNA = certified registered nurse anesthetist; EP = electrophysiology; HOPD = hospital outpatient department; PACS = picture archiving and communication system; SVT = supraventricular tachycardia.
Keys to building a comprehensive electrophysiology program
Based on the growing prevalence of arrythmias in the U.S., providers will need to manage care delivery differently to serve the complex needs of these patients as efficiently as possible. Vizient recommends the following:
Dedicated lab for EP procedures
The most common procedures for EP programs are pacemaker and implantable cardioverter defibrillator implantation and intracardiac catheter ablation. Managing the range of procedure types and technology needs for each case can be challenging. A key component of a robust EP program is a devoted/hybrid lab – and dedicated staff - for EP procedures. Complex intracardiac catheter ablations can take four or more hours, whereas device implants can be completed in less than one hour. A dedicated lab helps control wait times for scheduling procedures, enhances staff efficiency and maximizes the advanced imaging and electrical mapping technology necessary to perform EP procedures.
Staffing according to industry guidelines (2019 update)
The Heart Rhythm Society suggests that staffing levels be based on the complexity of the case. Therefore, recommended staffing is determined according to the abilities of your workforce (whether specialized or cross trained) and the specific case mix for that lab. EP clinics have traditionally been constrained by the limited number of EP physicians in practice who represent the smallest of the cardiovascular subspecialties. There is an average of one EP for every 127,500 people in the U.S., and they are not distributed evenly across the nation.4
Conclusion
Staying ahead of the curve
Along with increasing disease prevalence, innovation continues to fuel demand for arrhythmia services. Advanced technology–led improvements in diagnosing and managing and treating patients with arrhythmia have contributed to strong growth for select procedures. Treatments for patients with AFib (eg, intracardiac catheter ablations, anticoagulation therapy) continue to require close consideration of the delicate balance between stroke risk, bleeding risk and symptom level.
Areas of opportunity and consideration for healthcare providers:
Working collaboratively across all cardiovascular service lines to deliver comprehensive patient care
Cardiac ablations due to improvements in quality of life and emerging techniques such as minimally invasive intracardiac ablation via high-energy electroporation (pulsed field ablation). New data points to earlier intervention and improved outcomes over anti-arrhythmic drug therapies.6
Pacemakers and implantable cardioverter-defibrillators (ICDs) due in part to advances in remote monitoring and newer devices such as leadless pacemakers
Evaluation and management (E&M) visits driven by increased disease awareness as a result of consumer-based wearable devices and commercially offered remote monitoring capabilities
Access the Vizient® Medical Device Tech Watch for more data-driven insights and trends affecting healthcare.
References
Developing an electrophysiology program. FAQs: programs, technologies, strategies. Sg2. 2019. Accessed February 27, 2023.
Atrial Fibrillation. Centers for Disease Control and Prevention. Updated October 14, 2022. Accessed February 27, 2023.
Atrial Fibrillation Won't Cause Heart Attack but Can Lead to Other Serious Complications. Mayo Clinic. January 14, 2011. Accessed February 27, 2023.
Anand, Rishi. Career advice for newly trained electrophysiologists. EP Lab Digest. March 2012. Accessed February 27, 2023.
Katella, Kathy. What kind of heart specialist do you need? Yale Medicine. January 28, 2022. Accessed February 27, 2023.
New data underpin drive towards earlier AF ablation strategies. Cardiac Rhythm News. February 23, 2022. Accessed February 27, 2023.
Speak with our team of experts to learn more